Archived Rumble
To Helen Back - A Local's Guide
Wednesday, September 09, 2020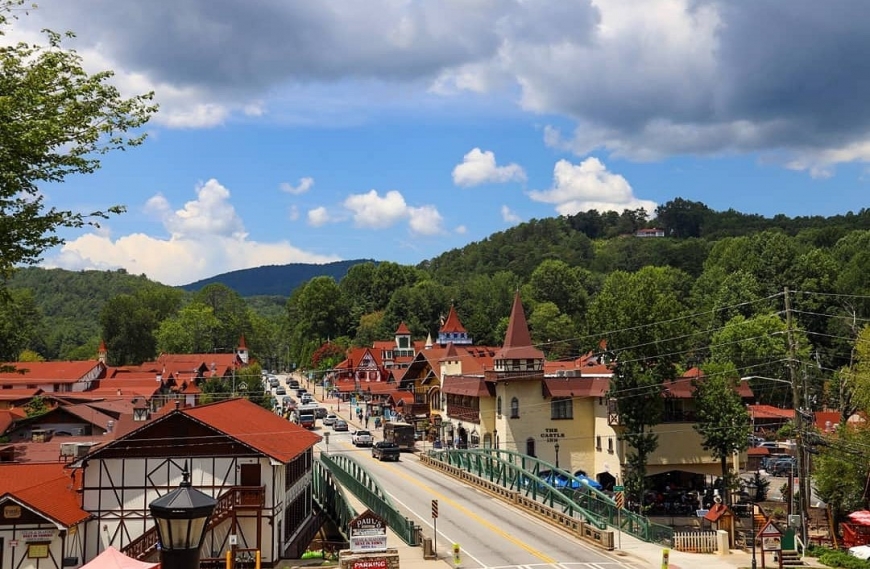 White County Convention & Visitors Bureau
My family history goes back a good ways in Northeast Georgia and particularly in Helen. My mom grew up on the headwaters of the Chattahoochee River. She and her four stair-step sisters, my grandparents and my great grandmother Leilah Abernathy lived on Scorpion Holler (now called Myra Branch Road to all the locals' chagrin). They grew up wearing dresses made of potato sacks, making mud pies, gardening, canning and trying to stay out of trouble.
My grandfather was in the logging business when Helen was a logging town — before that industry went bust and the locals decided to turn it into the Alpine village tourist trap that it is today. That transformation happened in 1969 when my mom was 14 years old. When Helen got it's second chance at life, my grandfather Jack Abernathy opened the first beer store in town — The Helen Cellar that is still there today. My grandmother ran the snack shack in town for many years.
My paternal grandfather Hollie B. Stone — notoriously known in Helen as "Stoney" — moved my dad and his siblings to Helen in the mid-70s to open a restaurant. He'd always been in the restaurant business and still one of the best cooks I know to this day. He'd worked in a kitchen in Charlotte when my dad was born and they were living in Atlanta when Stoney decided to get in early on the boom happening in the little Bavarian town of Helen. He had a place right on the river in Robertstown just above Helen. Dad tells stories of the child labor he and his brother endured working in the kitchen making coleslaw, potato salad, hushpuppies and fried trout from scratch. He still likes to say his first business enterprise was selling boiled peanuts when he was 10 years old.
By the early '80s, my mom was a single mother to my brother and worked as a bartender at Paul's Steakhouse in Helen. At the same time, Stoney was running the kitchen at Paul's. And at the same time, dad was serving in the U.S. Navy and while on leave, he met my mom at Paul's and then I came along in 1985.
As long as I can remember, much of our lives revolved around Helen. It's where dad would take me fishing. It's where my brother would take me tubing. It's where we went to play mini golf and bumper carts on first dates. It's where dad played golf and my my worked as an activiites director at the nearby vacation resort. It's where I had my birthday parties in the summer. It's where we went to watch fireworks and have a Fourth of July picnic. It's where I had my first job and where I got my first traffic ticket.
Growing up there was strange, but we didn't know any better. Still to this day when I tell people I'm from Helen, they seemed surprised there are people that live there full-time. But as we know here in Western North Carolina, there are always the locals keeping the tourism industry going behind the scenes.
Helen isn't what it used to be — many of the shops and restaurants have closed or changed hands, it's harder to find authentic delicious German food, the Remember When Theater isn't there anymore and the amusement park is also gone. There are still the touristy things you have to do — Nora Mill Granary and dam, tubing down the river, homemade fudge from Hansel & Gretel and the fest hall of Oktoberfest celebrations — but there are also many hidden gems nearby that people might miss. I hope these tips help you explore the area from a local's perspective.
Betty's Country Store
If you're staying in Helen for more than a day, chances are you'll have to make a stop at Betty's Country Store because it's the only grocery store in town. The store was opened by Betty and George Fain in 1973 in a much smaller location and that's where it was when I was growing up. As I got older the store outgrew the space and built a bigger store just across the road and that's where it sits now. When I went to work there when I was 16, George had already passed away, Betty had retired and their two daughters Dru and Darlene were running things. We had two cash registers and every item had to be typed in manually. We had the best produce, best bakery and best meat department in the county. I got to work with several of my high school friends there — including Betty's granddaughter who ended up being my college roommate — and also met so many interesting characters along the way. When I graduated from cashier to bakery/meat department, I learned to bake pies, cookies, cakes and all the other delicious sweets and salads we made in the deli. I remember making 25 pecan pies for Thanksgiving one year and I'll never forget the smell of putting liverwurst or bloodwurst on the slicer to cut. Ugh, it was so gross. So, go by Betty's and grab a Classic Coke in a glass bottle, some salted peanuts to dump into your coke, a giant chocolate chip cookie from the bakery, some farmers market salad and a couple of steaks to throw on the grill for dinner. You won't regret it.
Cafe International
Cafe International is still my favorite place to grab food in Helen. Parking is very limited but the outdoor deck looks right over the river and you can watch all the tubers go by while you enjoy your food and a cold beer. Of course there's some traditional German faire on the menu but there's also options for those who don't particularly care for German food, which makes it an easy option for everyone to enjoy.
Paul's Steakhouse
Right on the other side of the street from Cafe International is Paul's and I would feel like a traitor if I didn't tell you to go experience it for yourself. It used to be a wild and rowdy private club back in the day, but today it's open to the public with a pretty expansive menu. Or if you just want to enjoy a cold drink, you can hang out on the deck at Margarita's just behind Paul's.
Hayloft
New owners have tried to change its name and its reputation by calling it The Loft Tavern & Grill, but to locals it will always be called the Hayloft or the Hay Hay to many of my friends. It's THE dive bar in town — three floors, a small dance floor that is always hoping, a pool table tucked in the corner and a large deck overlooking the back roads of Helen. It's where we always karaoked, watched the fireworks, got sloppy drunk and regretted our decisions the next day.
Hofer's Bakery & Cafe
Hofer's is where you want to go for breakfast — the perfect blend of southern and German heritage all wrapped up into one. Get your Belgian waffles AND your biscuits and gravy. Take some desserts home with you — apple strudel, German chocolate torte or my favorite, hazelnut rum torte!
Sautee-Nacoochee
Man, I get really strange looks at the Post Office when I send packages to Sautee-Nacoochee, Georgia. No one has ever heard of it even though it's just 10 minutes outside of Helen. It's named after two native star-crossed lovers. Here's a link to the legend.
The quiet valley sits in the shadow of Sal Mountain and follows along the Chattahoochee as it rolls out of Helen. When you come out of Helen toward Cleveland, you'll see the historic Indian Mound with a gazebo sitting on top — turn left and you'll be in Sautee. Sautee is where my family and I have always sought solace. It's where we found our people and our peace. We grew up in those woods and in those waters. There wasn't much there when I was younger — only The Old Sautee Store, Sweetwater Coffeehouse and the Sautee-Nacoochee Community Center, which is where my mom attended school from kindergarten to eighth grade. I did community theater in that building, I met my husband in the old gym when we were in high school and we got married there at the community hallin 2010, so lots of precious memories there.
Now the center is home to the Folk Pottery Museum and a number of other culturally significant history displays. If the museum is open, definitely stop in and have a look.
Sweetwater Coffeehouse was my second home in high school and college. There was nothing better than sitting on that little front porch enjoying their organic, shadegrown, amazing coffee. Be sure to take a bag or two home with you - you'll be spoiled by it forever. The shop was opened by Anna and Eric Anderson, who ended up selling the shop years later so they could move to Asheville. Now they own All Good Coffee in Weaverville. Small world, huh?
Just across the way from Sweetwater is Bernie's Guesthouse — where all the locals go to eat a legit farm-to-table delicious meal. When you've stuffed yourself and need a good night's rest in luxury, head down Bean Creek Road and up to Lucille's on the Mountaintop. Matt and I stayed at this B&B on our wedding night. The rooms are beautiful and the views are amazing. It's the perfect spot for a romantic getaway. And did I mention the Mandala Spa is on the same property so you can get a massage while you're there? Don't get in a hurry to get up the next morning — the staff will bring you breakfast in bed!
Before you head out, stop by Lavender Cottage & Garden in Sautee to pick up some goodies to take home. The bright purple cottage is surrounded by lavender growing and the aromas only get better when you go inside. You can find just about everything made from lavender — soaps, hand wash, hand sanitizer, cleaning supplies and my favorite — lavender peach jam. If you get home wishing you had stocked up some more, don't worry, many of the products can be purchased on her website as well.
If you have some more time, head over to Chattahoochee Stables for a horse ride or down to the Stovall Mill Covered Bridge to take a dip in the river. Hit up Yonah Mountain Vineyards and Habersham Winery. If you want some outdoor recreation, head up to Unicoi State Park and hike Anna Ruby Falls or take a scenic drive on Richard Russell Scenic Highway — Dukes Creek Falls Hike is one of my favorites!
When you're ready to head back home to Western North Carolina, I recommend taking the back way. It's slower, but fewer miles so really you won't lose any time. You'll take GA 255 from Sautee, which will take you through Batesville and then you'll turn right onto Burton Dam Road. You'll have some nice views from around Lake Burton as you turn left onto Bridge Creek Road and then left again on Charlie Mountain Road before turning right onto U.S. 76 that takes you back to downtown Clayton. Then you get back on U.S. 441 to bring you home.
I hope this has been helpful, but if you have any questions for me before you head to Helen, feel free to reach out to me at This email address is being protected from spambots. You need JavaScript enabled to view it..