Archived Rumble
Pros & Cons of a Solo Parenting Vacay
Wednesday, September 09, 2020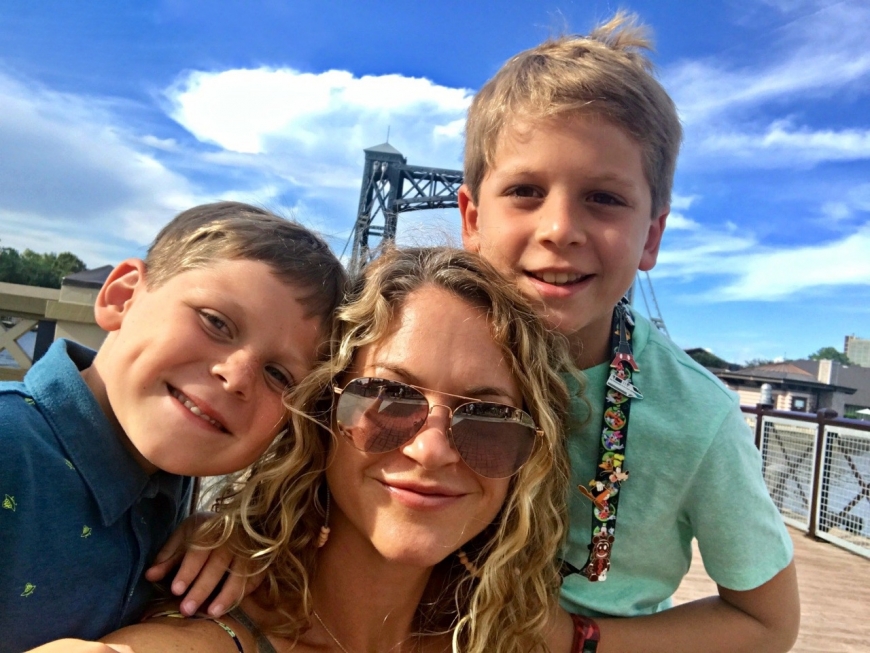 A couple summers ago, my two little boys and I spent four days in sunny Orlando. It was a last minute idea. I was supposed to go on a girls' beach trip, but childcare fell through. Ultimately, it was God giving me a big fat wink because I wouldn't trade that Orlando trip for anything.
Before deciding on the destination, I asked the boys what they wanted to do. Brooks, my oldest, said, "Ride on an airplane." Little brother Case said, "Stay in a hotel." So we rode an airplane to Orlando and stayed in a hotel. One day as I was sitting at the pool straining to find my two munchkins among the many wet, goggled heads, I realized there are pros and cons to a solo parenting vacay. Let's start with the bad so we can end on a good note.
CONS
No adult interaction: With no adult interaction, all conversations are kid-centric, which is fun and innocent but every now and then, it's nice to have a conversation with another grown-up, especially when the kids are playing for an hour straight or only want to talk about Minecraft. My novel, thoughts and Instagram were my adult friends during our trip.
Lack of spirits: And by spirits, I mean libations. When sitting out in the sun all day at a waterpark resort, it's fun to have a cocktail or two but when you're the only adult responsible for everything, it's not wise to get even the slightest bit tipsy, especially in an insanely crowded environment where it was already challenging to find my own children.
Lack of supervision: This was a big source of anxiety for me. I'm not a fan of crowded spaces, particularly when my boys are in the middle of one. At least when there's another adult present, we can share this task. Moreover, there were several times when I had to leave the hotel room to quickly grab something at the market or reserve our pool chairs. This was the first time the boys stayed in a hotel room by themselves. Even though it was only for 10 minutes, it still made me nervous. I made them turn all the locks, and we had a secret knock for when I returned.
Always having to be "on." In my everyday life as a single mom, always being "on" is a constant thing. On a vacation, it feels even more pronounced. As the only adult, I can't let down my guard or relax entirely because I'm 100% in parenting mode. This was only annoying when the boys were bickering. Being the one and only referee and making sure everything felt "fair" was hard at times. Furthermore, they both wanted to sit with me, snuggle with me or play with me at the exact same time and with it just being me, it seemed like one of the boys always felt left out no matter how hard I tried.
Danger: I've been traveling my entire life. In college, I traveled alone to Europe and didn't feel one ounce of fear. Even now, when I attend conferences, I'll ride in Ubers by myself and do other things alone, but with it being just the boys and me, everything made me slightly more anxious. If one of the boys got out of my sight in the airport, I felt frantic. Riding in an Uber with a stranger at the wheel made me a bit nervous. I didn't let the boys know this. If they think I'm worried or fearful, they start to feel the same.
PROS
Siblings must play: If the boys have friends or cousins around, they will typically choose to play with them as opposed to one another. When we travel without friends or family, they have to play with their brother. Some arguing ensues but when they are forced to play together, it proves they can do it very well and to their surprise, even enjoy it.
Calling the shots: Sometimes when multiple adults are present, there can be disagreement about plans, rules, timing and so on. When I'm the only adult I have to make all the big decisions. They may not be perfect decisions, but at least they are made with no debate, fanfare, backlash or deliberation.
Nada on the booze: When you are parenting solo, it's obviously not wise to be tipsy or intoxicated. While it's nice to relax and let loose on vacation, significantly limiting the alcohol helps save money and calories.
Packing light: Last month I traveled to Cabo San Lucas on a romantic getaway. It took me an entire week to pack, not to mention the shopping that took place during the months leading up to the trip. I wanted everything to be flowery and tropical and very Cabo-like with hats and accessories and the right shoes and well, you get my drift. For the Orlando trip, it took me one hour to pack from start to finish. I packed three pairs of shoes, some bathing suits that offered plenty of coverage and support for sliding down slides and playing in the pool, yoga pants and several comfortable yet cute dresses for evenings. Zero amounts of stress resulted from packing.
Friendly faces: There's something about a mom being alone with her children that makes people smile and tilt their heads with curiosity. Maybe they're thinking, "I wonder if they're going to meet the dad on a business trip" or "I wonder if they're running from something" or "Wow, I can't believe she's taking children on a trip all by herself." Whatever the reason, everyone from flight attendants to servers to Uber drivers are friendly when it's a parent alone with kiddos.
Eating in moderation: When you're the only adult helping children manipulate a buffet, cut meat, clean up spills, etc., you can't eat very much yourself. In Orlando, by the time both children were sitting down happily eating and I got my food, I usually enjoyed one plate. If/when I was ready for another trip to the buffet, the boys were ready to leave at that point. The benefit was I never got overly stuffed or ate more than I needed. My one demand was coffee, and a lot of it.
No adult interaction: This one landed on both lists. While it would be nice to have some adult interaction, it was also kind of relaxing to be the only adult. There were no serious conversations. They all centered around playing, bathing, clothing, souvenirs or what we were going to do next. Both boys were inquisitive about everything we were doing. They had a lot of great questions, and I enjoyed watching them experience new things.
Mindfulness: This is the best pro of all. When two or more adults are present, there tends to be an "us vs. them" mentality, meaning the adults congregate and do their own thing while the kids congregate and do their own thing, but when it's just the boys and me, I'm focused on them and entirely in the zone. I love this feeling, and it makes my time with them more meaningful. Even though I had to deal with some of the cons above, it was worth it to have this special time with them.
As a single parent, you miss having a family unit, but you also become more mindful of your children. That is a huge silver lining. If my mom were still alive, she probably would have gone on this trip with us and been the "other adult." I miss not having her here, but I won't let it stop me from traveling with the boys alone. Their childhoods are innocent and fleeting. I wish I could bottle these young years and re-visit them later in life, but because that's not possible, I'm determined to make the most of every moment while I can.