Archived Rumble
Q&A with Rachel Clay
Wednesday, August 19, 2020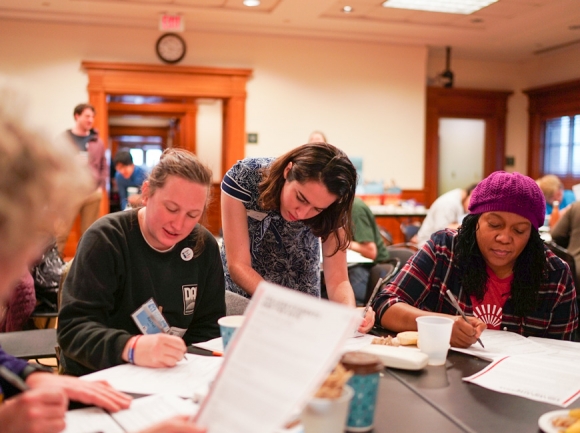 Rachel Clay is a voting rights activist. She works as the Southeast Regional Coordinator for the Campus Vote Project, a nonpartisan organization that works directly with colleges and universities to normalize and institutionalize student voting. Rachel is from Raleigh, she graduated from Appstate with B.A. 's in political science and women's studies and she currently resides in Asheville, North Carolina.
Rumble: How did you get involved in the work for voting rights? What has made you stay?
Rachel Clay: I was always involved in politics even back in middle school, but I began specifically doing voter suppression work in 2014 on the heels of the 2013 SCOTUS decision Shelby v. Holder. This decision essentially nullified the Voting Rights Act of 1965, getting rid of the formula which placed North Carolina under preclearance so that all of our election laws had to be reviewed for their discriminatory impact. This cleared a bunch of states, particularly in the south, to introduce whatever election legislation they wanted to and North Carolina (honestly waiting in earnest for this moment) was the first state to do so.
NC legislators introduced a myriad of voter suppression laws, I was a student at ASU when this happened and became a Vote Defender where I stood outside of polling sites to help people who were turned away from voting and needed help. Voter suppression became a huge passion of mine after this experience because I realized very quickly that voter suppression relies on pre-existing inequities in society - racism, poverty, segregation, etc. and that anybody involved in producing voter suppression is also involved in other forms of oppression and inequalities.
We have to take a multi-pronged approach to civic engagement that works to combat voter suppression and engage communities in the voting process while also working to rid societies of the inequities that make voter suppression possible in the first place. And that's what I want to do.
Rumble: When speaking with young people, what do you say to encourage them to vote?
Clay: Young people are just as impacted by policy as any other person and I think sometimes this fact isn't uplifted as much as it should be. Sometimes it feels like young people are being encouraged to vote as a way to 'prepare' them for being an adult but the reality is that everybody, including those that aren't even at voting age yet, are tremendously affected by policy and legislation. So I try to encourage young people the same way I encourage anyone else, which is by highlighting how the outcome of any upcoming election will impact their day-to-day lives.
Rumble: What prohibits student voters from getting to the polls? Why are the numbers for this demographic not higher?
Clay: Students face unique barriers in casting a ballot. Many are first time voters, many are away from home, and many are even living outside of the state that they grew up in. Voting, unfortunately, is difficult on its own but then becomes overwhelming when it's attempted for the first time while navigating those circumstances.
The largest determinant of voting rate for those who register is not age but the duration for which they've resided at their current address. For students that is often less than 6 months. The older people get, often the more stable their housing gets and my guess is that this is a huge contributor to voting rates. But the reality is we don't know exactly why student voting rates are what they are. What we know is that the idea of the apathetic student voter is a myth, that actually when students are empowered with the information they need to register and vote - they do.
Rumble: What are the most important issues for college students right now?
Clay: I think there are some unifying issues that are impacting college students right now. Healthcare and student debt being a few. But I also think that college students come to school with a diverse array of identities and experiences that determine what issues are important to them, just like any other person. Especially when we think about how diverse student bodies have become in terms of age, race, and other demographics, it's difficult to predict what issues are relevant to each and every college student.
Rumble: What can young people do today (of any age, for that matter), to become more compassionate and tolerant?
Clay: America is a country of segregation and alienation. I think that in order for people of all ages to become more compassionate there must be discourse and dialogue encouraged between groups.
Unfortunately I think the narrative of open discourse has been sort of twisted to mean there is a sort of superiority to political neutrality. The whole "hate the ideas, not the person" sort of thing. And I think this gets in the way of connecting opinions, dialogue, and discourse with all of their very real consequences. And for people impacted by these consequences I think this has become disheartening and makes dialogue feel pointless and hopeless to an extent.
In my opinion the idea that there is no wrong answer is wrong. There is cruelty, there is inhumanity, there is injustice, and denying these things for the sake of neutrality denies the possibility of a fruitful dialogue.
I think the reality is that we all have a lot more in common than we do differences. And one thing we all have in common is really a common enemy and that's an oppressive economy that is slowly shrinking the middle class, drastically increasing the wealth of a few people, and keeping people so busy to make ends meet that they don't have the energy to do anything about it.
I think if we could have more honest and open dialogue around class and capitalism and our daily lives and our financial realities we might have a chance of banding together, working together, and having compassion for one another.
Rumble: In your opinion, what is one of the most significant barriers to America being a more progressive country?
Clay: I think, honestly, America functions through a total reliance on massive social inequality. So many of our systems demand hierarchical structures to exist in order for them to function properly, to the point where there is too much of an investment in inequality for any progress to be made. When we look at America we see a country that was and is built upon the principals of white supremacy and capitalism. Progress is antithetical to the intended purpose of many of our political structures at this point. I think there needs to be a total reimagining of how our country operates in order for us to become a more progressive country.
Rumble: How does it feel to be a woman working for voting rights exactly 100 years after women won the right to vote? What work has yet to be done to achieve equal voting rights for everyone in this country?
Clay: It feels awesome to be a woman working for voting rights. Especially considering the path that voting rights has taken with women getting the right to vote just 100 years ago and Black women essentially receiving the right to vote just 55 years ago in 1965.
In my line of work, working with college students, it is interesting to see how this plays out. Female college students consistently outvote their male peers and specifically Black women continue to maintain their position as the most active voters on campus, and in 2018 Hispanic women made the most significant gains in voting rate of any group (comparing 2014 to 2018).
I think there is so much work to be done to achieve equal voting rights for everyone. But unfortunately the achievement of equal voting rights hinges on the dissolution of already existing inequalities that make voting immensely more difficult depending on a person's situation. There are of course things that can be done to make voting way easier that I would love to see happen - automatic voter registration, universal mail in ballots with an in-person option, and I would love to see the voting age lowered to 16.
Rumble: These days, how difficult is it to be a nonpartisan organization? Lately voting rights has been swept up in the storm of partisan politics and these sorts of organizations seem to be associated with "leftists" and "liberals."
Clay: I think for most organizations this is getting harder and harder every year. But for ours, we actually do a really good job of being nonpartisan and don't have a hard time doing it. Because we work directly with college administrators, there's a lot more pressure to be strictly nonpartisan to an almost extreme degree and I think that it's one of the strengths of our program.
We all know that ignoring something doesn't make it go away and it's the same with politics. It's a much better idea to take a proactive approach to civic engagement- releasing a statement on nonpartisanship, having policy around candidate forums, etc., than to just ignore these things and hope they work themselves out.
We also work with an array of schools, some more conservative and some more liberal, all the way from Liberty University to UNC Asheville. So we really are getting out all votes, regardless of party affiliation. I think voter suppression typically works in the favor of people running on a conservative platform and that's why voting rights has a liberal association. But the reality is that we want all people to be able to vote, and the poorer you are, the younger you are, and if you experience any form of racism, it becomes more and more difficult. We're just trying to do our best to help these groups of people participate in the political process by voting, and then it's their decision who they vote for. And oftentimes the party with policy ideas that will negatively impact these groups the most also align with candidates that have an investment in suppressing their votes. But ultimately it's up to the voter and all we want to see is a country where everybody regardless of who they are gets their one vote.
Rumble: What is the best way people can get involved with Campus Vote, or voting rights generally to help turn out voters in this election?
Clay: For us, the only way to work with CVP is if you are a student, you want to be a donor, or are working at a college. We work directly with campuses.
But anybody that lives in any city can find people already doing the work. Getting involved in local chapters, local organizations is a great way to start. It's important to work on local issues, as those tend to have more noticeable impacts on our daily lives. Infrastructures already exist, and if you get on board with that, it won't be building from the ground up to make a difference or help out.
The whole "vote plus one," vote and then do something else. So that could look like getting involved in police accountability in your community, environmental justice, learning who's on your local school board. There are so many meetings you can attend to learn, understand and share your input about local issues. I really recommend going to your local town or city meetings.
Another important thing is local news, shout out to you guys. Local newspapers and news outlets are one of the best ways to stay up to date on local issues. I read the Asheville Citizen Times and Mountain Express every week, it's one of the best starting points.
And then just talking to people around you. We also always encourage people to run for office, whenever they are able.
With most of this stuff I am thinking about people in the 30-50 year age range. The majority of that group will have more stability in their lives, possibly have been in a community longer.
For college students there are a ton of different options like clubs and volunteering on campus.