Shopping Guide
Save Saturday shopping for small businesses
Wednesday, November 22, 2017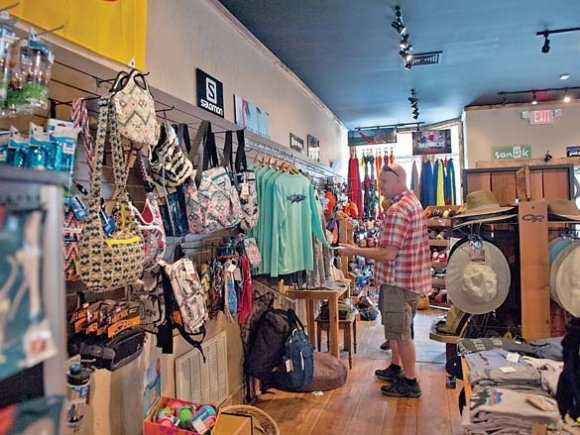 It seems the holiday shopping season comes sooner and sooner every year. Before the turkey has even cooled people are lined up outside the big box retailers waiting for their chance to snag the best deals of the season.
While Black Friday might be dedicated to the large retailers in town, the local business community has banded together once again to encourage residents to set some of their holiday spending aside for Shop Local Saturday. Western North Carolina is fortunate to have bustling downtowns with and array of mom-and-pop shops offering gift ideas for everyone on your shopping list.
In Haywood County, the Haywood Community College's Small Business Center is partnering with the Haywood County Arts Council to Hold Small Business Saturday Pop-Up Shop. The Pop-Up Shop Saturday, Nov. 25, will highlight the vibrant local small business climate and the talent of local artists and makers.
The Pop-Up Shop, which will be held at the art council's gallery in downtown Waynesville, will feature jewelry by No Ordinary Women and Glory Beads by Deb Parmele and custom accessories and home goods by Lola Mae Designs. Visitors can also enjoy the Haywood County Arts Council's "Small Works" exhibition currently on display. The event is a great way to support local small businesses and buy unique handcrafted products all while keeping money in our local community.
"We are thrilled to partner with the HCC Small Business Center for a special Small Business Saturday artist pop-up in our gallery. Though some people don't immediately think of artists as small business owners, they absolutely are," said Lindsey Solomon, executive director of the arts council. "Supporting small, local businesses boosts our local economy and supporting artists specifically in their small businesses helps us live into our mission as the Haywood County Arts Council."
HCC's Small Business Center is a neighborhood champion for Shop Small on Small Business Saturday, an initiative that's been building momentum since it started with an American Express campaign in 2010. The effort has grown in popularity as communities realize how spending locally helps boast the local economy.
"Supporting small businesses is critical to the health and livelihood of our national economy and local communities," said Juanita Duggan, CEO of National Federation of Independent Businesses. "We are proud to partner with American Express to bring attention to the importance of small business and look forward to another successful Small Business Saturday."
HCC's Small Business Center will host a Small Business Saturday® Welcome Station live at the Haywood County Arts Council located at 86 North Main Street, Waynesville from 10 a.m. until 2 p.m.
The towns of Maggie Valley and Canton also have several new merchants offering an array of local gift ideas. Maggie Valley will be holding a Santa Strut and Lighting up of Maggie Valley Winter event from 3 to 6 p.m. Saturday, Nov. 25, at the Maggie Valley Festival Grounds.
The event will feature a Santa Strut — a Santa costume contest — and an ugly sweater contest. Christian recording artist Laura Hawthorne will lead the crowd in singing Christmas Carols and Voices in the Laurel will also perform. For the finale, everyone will walk over to the festival grounds waterfall to Light Up The Valley.
Donations of non-perishable food items will also be collected to support local food pantries, monetary gifts will benefit the Friends of Haywood County Animal Shelter, and winter coats for a coat drive.
Local businesses and the Maggie Valley Chamber of Commerce worked to put the event together in hopes of attracting more shoppers to the community to show them what the town has to offer while getting into the Christmas spirit.
"Maggie Valley is primarily made up of small businesses — from our restaurants to our retail shops, even our service industry partners. That's what makes Maggie Valley so attractive to our visitors," said Maggie Valley Chamber Director Teresa Smith. "It's the one-on-one service that a small business owner can give. It's getting to know the business owners on a personal basis that keeps customers returning time and time again. Southern hospitality is felt throughout our business community and that is what has kept us vibrant and strong for more than 50 years."
Dillsboro will be celebrating Small Business Saturday by offering live entertainment at several of the shops. The Maggie Valley Band will play from noon to 3 p.m. at Tunnel Mountain Crafts; Twelfth Fret from 12:30 p.m. to 2:30 p.m. at Monkey Toes; Ron Smith from noon to 2 p.m. at Dogwood Crafters and Alma Russ from noon to 2 p.m. at the Christmas Shop.
Small Business Saturday Consumer Insights Survey found:
• As much as 80 percent of all consumers surveyed say at least some of their holiday shopping will be done at small, independently-owned retailers or restaurants
• Three-quarters (75 percent) of all consumers surveyed are planning on going to one or more small businesses as part of their holiday shopping
• 90 percent of all consumers surveyed agree it is important for them to support independently-owned restaurants and bars
• Of consumers who are aware of Small Business Saturday, 89 percent agree that the day encourages them to shop small all year long, not just during the holiday season
• For those who are aware and who plan to shop on Small Business Saturday, 44 percent plan to spend more this year compared to last year.