Archived Reading Room
Local author pens novel about pre-Depression Asheville
Wednesday, August 17, 2022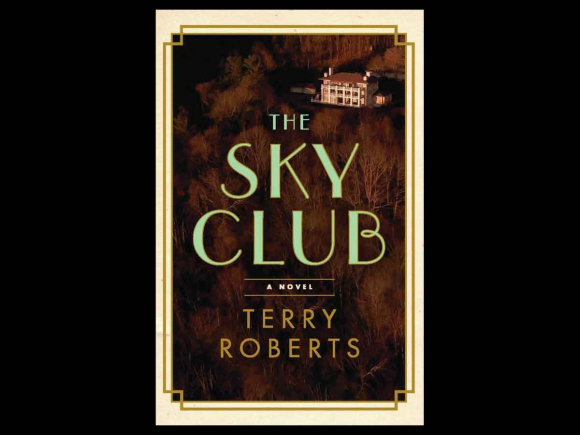 I've said it before — our local authors are "going to town" these days, and in this case quite literally.
Asheville author Terry Roberts has a new book, "The Sky Club" (Turner Publishing, 2022). With glowing back cover blurbs from well-known popular North Carolina authors Fred Chappell, Lee Smith, Robert Morgan and Wayne Caldwell, Roberts' new novel is told from the perspective of a young woman in the years 1929 to 1931, during the early years of the Great Depression. She was raised on Big Pine Creek in Madison County here in our mountains and moves out of the hills and rural poverty to Asheville, heeding her mother's deathbed wishes that she "make a life somewhere else ... somewhere I can't even imagine."
As in his previous novels, Roberts draws from his own Western North Carolina heritage and knowledge of people and place and brings it to life for those of us pining and anxious for a great read. As we have come to expect from Roberts, he does just that, with levity and just enough use of mountain dialect and use of locations that are real and still familiar to those of us who have lived here for a long while.
In "The Sky Club" we start out with Josephine Salter as she moves from Madison County to her Aunt Brenda and Uncle Frank's home on Charlotte Street in Asheville and as she tries to accommodate her wardrobe, her hairstyle and her mountain dialect to be able to find a job in a "foreign land." Land, as she finds out, "that in town is a commodity — to be bought, sold and traded and was meant to be kept moving, just like money, because it was money." Through her uncles' connections, she is able to get a job working as a novice teller at the Central Bank and Trust Company on Pack Square. The early chapters are about her accomodating herself to city life and her new job at the CB&T bank. But she's a quick study and is bright, focused and feisty, which bodes well for her in her new surrounds and in the story that enfolds.
Through her job at the bank, Josephine (also known as Jo) meets many of the city's power brokers and politicians. As a quick study, she quickly moves up the ranks in her job at the bank to eventually become head of accounting and bookkeeping. She also meets and gets to know, early on, Cameron Scott — eldest son of one of Asheville's most wealthy families, through whom she meets Levi Arrowood, who is the manager of The Sky Club, Asheville's popular mountaintop (Beaucatcher Mountain) speakeasy and where Josephine is taken by Levi on their first "date" and where she dances the Black Bottom, the Peabody, the Turkey Trot and the Charleston to live music from a local band.
As one might suspect, a romance between the two ensues and we are drawn in depth into the workings of Asheville's social and financial life as a possible economic tsunami can be seen on the horizon by Josephine and her almost clairvoyant math skills. As a bank collapse seems inevitable from a mathematical point of view, and not wanting to be the bearer of bad news to the upper echelon of bank executives or her Uncle Frank, Josephine, as she says "goes to earth."
"So I went to earth. That's what a fox does when the dogs are on its trail. The fox goes to earth, meaning to its den. The place where no one or nothing can dig it out and chew its head off. I went to earth at the Sky Club."
As the book progresses, with The Sky Club becoming ever more central to the story than "my life at the bank," as Josephine calls it, and as one might expect for those who know the history of the Asheville area, the story becomes a fiction of The Sky Club versus the Biltmore Forest Country Club as Josephine journeys deeper and deeper into both of those worlds. As the Great Depression brings her bank down in a seismic crash, Jo finds a new home and a new job at The Sky Club. Eventually striking up a romantic partnership with Levi, she is drawn deeper into what is both a glamorous and precarious life of bootlegging, jazz, and love as Roberts' tale captures and illuminates a story of money, greed and life after the crash — but not without its share of ironies and seeming contradictions.
"It's funny isn't it. In the middle of the great panic, no money to be had, and people will still buy life insurance," Levi quips.
Or as Roberts narrates a little later on:
"And as is so often the case when the panic strikes, the poor were the least affected because they didn't have far to fall. They already kept a flock of chickens, they already put in a garden, they already ate squirrel and rabbit, fished the creeks and rivers. They were close enough to their food that no dollars came between the lots, the fields, the rivers and the cookpot. Pluck it, skin it, gut it, eat it."
To know how this saga ends, you'll have to read it yourself. But perhaps the best way to sum up Terry Roberts' new novel is from the mouth of his main character, Jo: "Make an Old Fashioned. Sweet and strong ... with a brandied cherry. Tastes like sex in a thunderstorm."
(Thomas Crowe is a regular contributer to The Smoky Mountain News and author of the multi-award-winning non-fiction nature memoir "Zoro's Field: My Life in the Appalachian Woods.")