Archived Reading Room
Pick up a book and travel
Wednesday, April 14, 2021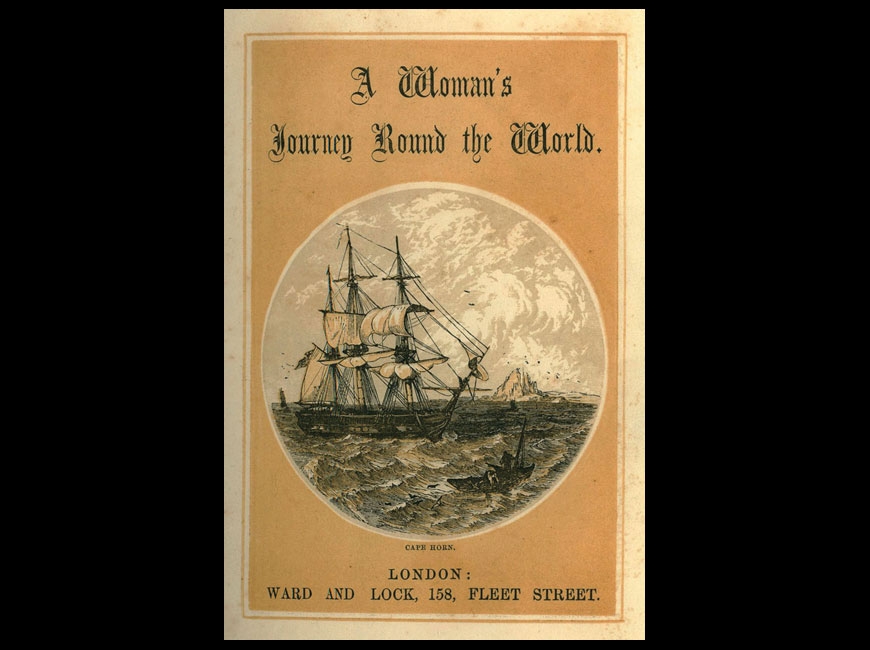 If you are like me and have been more than somewhat stranded by the pandemic for the past year or more and are succumbing to cabin fever and the isolation blues and are looking forward to getting out and about or even doing some traveling, then I have a suggestion.
During 2020, I subscribed to a DVD lecture series called "The Great Courses" and watched one titled "History's Greatest Voyages of Exploration," which I highly recommend. It included a lecture on Ida Pfeiffer, an Austrian woman who in the mid-19th century made journeys circumnavigating the globe to discover for herself what the planet she lived on looked like and what was happening on the continents and at the same time in the countries as they existed then.
Ida Pfeiffer was born in Vienna in 1797. As a child, she preferred boys' clothing, liked sports and exercise, and received the same education as her brothers under the encouragement of her father. "I was not shy," she writes, "but wild as a boy, and bolder and more forward than my elder brothers." At an early age she was a voracious reader and was particularly interested in Daniel Defoe (who wrote Robinson Crusoe) and the writings of Alexander von Humboldt — both of whom were travel writers. Her first long journey was a trip to Palestine and Egypt when she was five years old. The influence of this experience remained with her into adulthood. As she states in A Woman's Journey Round the World (Strand, London, 1850): "When I was but a little child, I had already a strong desire to see the world. Whenever I met a travelling-carriage, I would stop involuntarily, and gaze after it until it had disappeared; thinking they also must have accomplished a whole long journey."
Pfeiffer, as an adult, became an explorer, travel writer, and ethnographer. She was one of the first female travelers whose bestselling nonfiction journals were translated into seven languages. She journeyed an estimated 32,000 kilometers by land and 240,000 kilometers by sea to Southeast Asia, the Americas, the Middle East, and Africa, including two trips around the world from 1846 to 1855. Her memoir, A Woman's Journey Round the World, tells of her first long voyage. Written as a journalistic narrative but in a storytelling style, Ida Pfeiffer takes us with her on her two-year journey to both the exotic and the non-exotic locations and cultures around the globe. When you're with her on the page it feels more like you're at her side, seeing and experiencing what she is discovering on her many excursions and adventures.
In this thick tome of 350 pages — the first of three books written by Pfeiffer — that documents only the first of several long and arduous trips, she takes us in chronological order to: Brazil, around Cape Horn, Tahiti, China, Singapore, Ceylon, India, Mesopotamia, Persia, Russia and Greece.
As a sample, in Brazil and in Rio de Janeiro, she states in seeming contradiction:
"The flower shops were the only objects of particular attraction for me. In these shops are exposed for sale the most lovely artificial flowers, made of birds' feathers, fishes' scales and beetles' wings. Though it is true that the vegetation is perhaps richer, and the fruitfulness of the soil more luxuriant and vigorous than in any other part of the world, and that everyone who desires to see the working of nature in its greatest force and incessant activity, must come to Brazil, still it must not be thought that all is good and beautiful, and that there is nothing which will not weaken the magical effect of the first impression."
In traveling by boat around Cape Horn, she describes her voyage:
"In the evening everything seemed to promise a violent storm. Black clouds now began to drive toward us, the wind increased and all the hatchways were carefully fastened down as flash after flash of lightning darted across the horizon from every side and the white foaming billows of the waves broke with terrific force over the deck that it appeared as if they would carry everything with them into the depths of the ocean. You are alone upon the boundless ocean, far from all human help, and feel more than ever that your life depends upon the Almighty alone."
In Tahiti, we get Pfeiffer's description of her first encounter with the local people:
"Both sexes wear flowers in their ears. The women, both old and young, adorn themselves with garlands of leaves and flowers, which they make in the most artistic and elegant manner and they are all tattooed from the hips, down the legs and extended to the hands, feet and other parts of the body — all executed with much taste."
And around the world we go with telltale descriptions and stories of her encounters with native environments and native peoples. While her experiences wouldn't be of a same nature as we would encounter today, this book gives the reader a look into the not-too-distant past and how things were then — in an age of wooden ships, stark travel conditions and cultures still wed to the land and what she calls "loose social morals." All in all, traveling Round the World with Ida Pfeiffer is better than a Carnival Cruise and loaded with the kinds of experiences that are life-changing, life-affirming and the subjects of potentially great novels. While Pfeiffer is not a novelist, her memoirs read easily as if she were. Engaging. Engrossing. Intelligent. And perfect for this time of temporary isolation today. (All three of Pfeiffer's travel books are still in print and available through your local Indy bookstore, library, rare book dealer and online book vendors.)
(Thomas Crowe is a regular contributer to The Smoky Mountain News and author of the multi-award-winning nonfiction nature memoir Zoro's Field: My Life in the Appalachian Woods. This email address is being protected from spambots. You need JavaScript enabled to view it.)