A&E Latest
Two men, two versions of faith and hope
Wednesday, September 27, 2023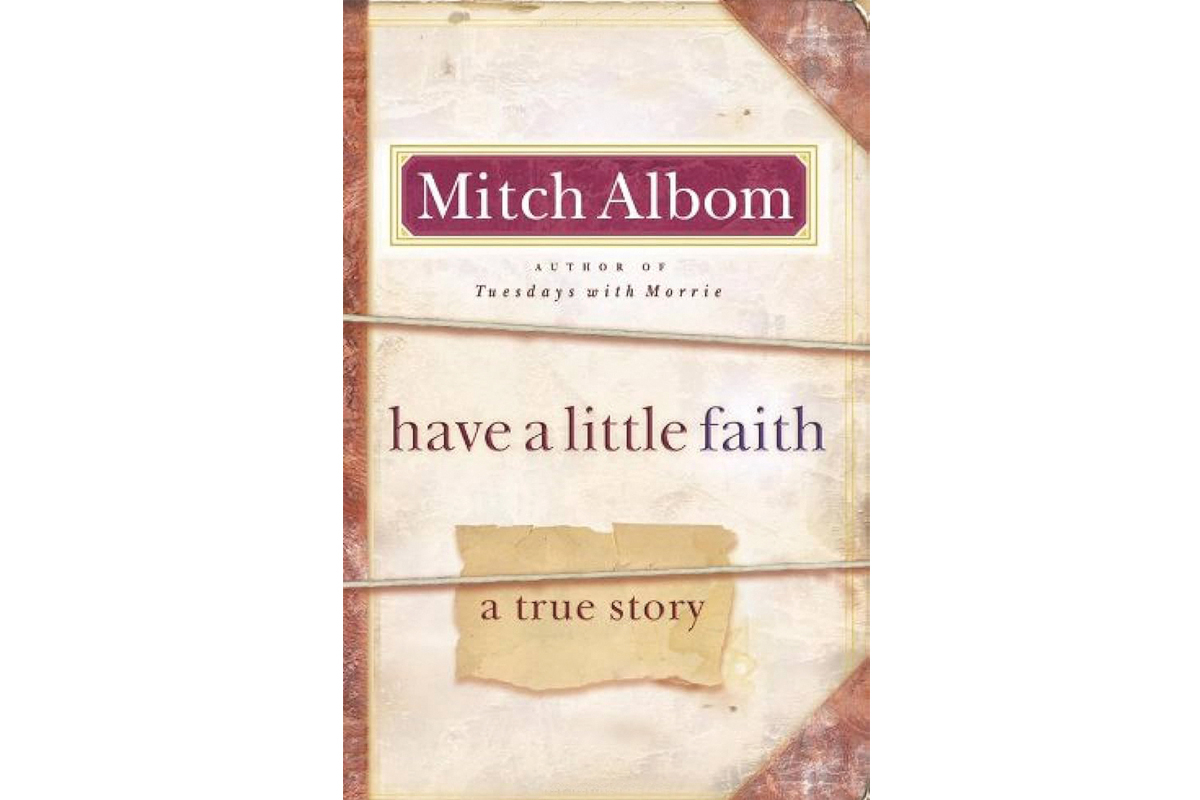 Some writers put out shoot-em-up thrillers, like Lee Child's Jack Reacher series. Some of us experience catharsis through such books by watching justice served up close and personal.
Other authors like Nicholas Sparks give us stories of love and romance, which can act as a balm for the lonely and the brokenhearted. Some stories, like Gary Paulsen's "Hatchet," pit an individual against nature or a fugitive on the run and facing impossible odds, like Louis L'Amour's "Last of the Breed," where Air Force Major Joe Mack takes on both Soviet pursuers and the Siberian wilderness.
Then there are the writers who explore the mysteries of what it means to be a human being. Do we have a purpose here on earth? What is at work in our lives, bringing us catastrophe or good fortune? Are we guided by a deity? By fate? By chance? Is there life after death? Do we have souls? And if so, what does that mean?
Mitch Albom is one of this band of explorers.
Perhaps best known for "Tuesdays with Morrie" and "The Five People You'll Meet in Heaven," Albom is the author of more than a dozen books, which have sold 40 million copies worldwide. He's a man of many other talents as well: a talented musician and songwriter, a journalist and a former sports broadcaster. He's also a philanthropist, donating his time and money to an orphanage in Haiti and to several charities in Detroit.
In preparation for an interview with him — Albom has a new book, "The Little Liar: A Novel," coming out in November — I recently revisited or read for the first time several of his books. In all of these, he probes the mysteries mentioned above, taking readers to heaven or bringing God to a boat of people lost at sea. He attempts to lift the veil separating our physical world, this place of joy and sorrow, from the world we cannot see or touch. He is wise enough not to give us answers in this regard, but instead asks us to consider possibilities, to try, if we can and so choose, to lift that veil ourselves and discover what we ourselves believe.
Of all the books I read by, however, the one that really hit home wasn't a novel but "Have a Little Faith: A True Story" (Hachette Books, Reprint Edition 2011, 272 pages). Here Albom tells the story of two men of God, one an 82-year-old rabbi he has known most of his life, the other a street thug and drug dealer turned Protestant minister.
The story opens when Rabbi Albert Lewis asks Albom to give his eulogy. Puzzled by this request — despite their long acquaintance, they hardly know each other — Albom accepts, but with this proviso, that he and Lewis meet several times so that when the time comes Albom might give a fair measure of the man. Over the next several years, the two become close, talking of everything from God and death to the mundane details of living. Of this relationship and the requested eulogy, Albom writes, "As is so often the case with faith, I thought I was being asked a favor, when in fact I was being given one."
Henry Covington comes from a radically different background. Growing up poor and black in Harlem, he helps his brother steal cars while still in his early teens. He graduates to drug dealing and armed robbery, serves time in prison for a crime he didn't commit, again takes up dealing, and ends by giving his life to God while crouching behind some trash cans, shotgun in hand, awaiting an attack by other dealers. Eventually, Covington lands in Detroit, pastoring to the poor and homeless in a falling-down church, which is where he meets Albom.
In these two lives, poles apart in background, status, and religious beliefs, we find similarities. Both are familiar with suffering, the rabbi from a lifetime of counseling those who have endured tragedy and loss, the pastor from his former life of crime and doing harm to others. Well into his narrative, Albom includes a poem which was new to me. Robert Browning Hamilton's "Along the Road" sums up the journey taken by both men, though on different roads, and is worth repeating here:
I walked a mile with Pleasure:
She chattered all the way,
But left me none the wiser
For all she had to say.
I walked a mile with Sorrow
And ne'er a word said she;
But oh, the things I learned from her
When Sorrow walked with me.
The dust jacket of "Have a Little Faith" states that Albom "finally understands what both men have been teaching all along: the profound comfort of believing in something bigger than yourself." This observation is true, but also too broad. The events of the last 100 years have shown us what happens when some take such comfort in ideologies like communism or fascism, with their tens of millions of murders and their imprisonment of entire populations. People like Albert Lewis and Henry Covington do in fact take comfort in something bigger than themselves, but it is a comfort drawn from God, not from the schemes and agendas of manifestos and dictators.
"Have a Little Faith" is in the end also about hope, which is in fact the last word of the book. People can change, Lewis and Covington tell us. People can work together and make things better.
Redemption, comfort, hope, love: these are the words Lewis, Covington and Albom himself come to live by. These are the desires of the heart.
(Jeff Minick reviews books and has written four of his own: two novels, "Amanda Bell" and "Dust On Their Wings," and two works of nonfiction, "Learning As I Go" and "Movies Make the Man." This email address is being protected from spambots. You need JavaScript enabled to view it..)