A&E Latest
A hero is found in an unlikely place
Wednesday, September 13, 2023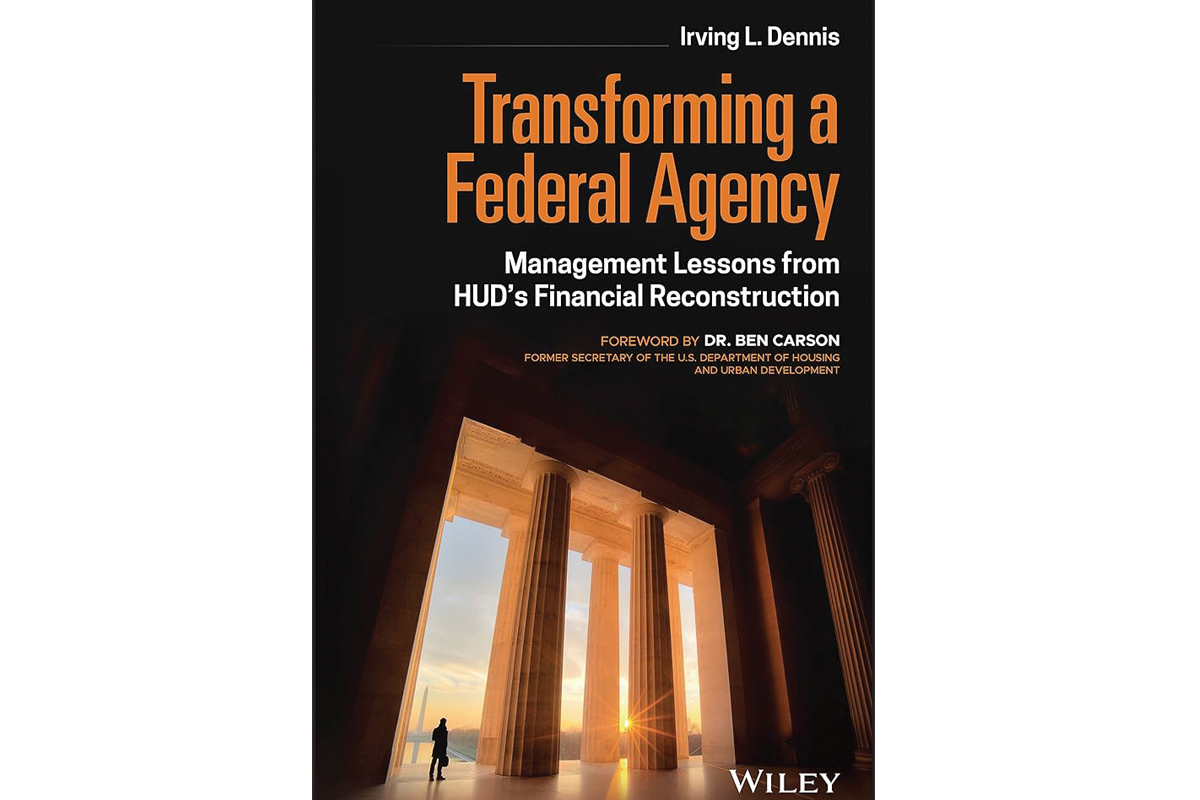 A friend offered me a book recently, one that I found mildly intriguing.
It was non-fiction, a political book, and I intended to check out the introduction at least, but political books are never a top choice for me.
What a surprise to discover that I enjoyed reading and indeed became cheered by a book with the title "Transforming a Federal Agency" (Wiley, 2022, 352 pages). My enjoyment was, in part, a testament to the care that went into making the writing interesting, but the story is a good one.
Author Irving L. Dennis was nearing retirement as a senior partner in the global accounting firm Ernst & Young when an email from the personnel office of the White House asked if he might be interested in serving as chief financial officer for Housing and Urban Development (HUD). Dennis' accounting firm had required early retirement, so he had plenty of time and energy left to "give back," as was his desire. But did he want to invest this much?
Curious, he accepted the interview offer, flew to Washington, and sat at a round table in a wood-paneled room "from the 1960s" with three young HUD senior staff members. "I sensed they were a little intimidated by my experience, so I was conscious to keep everyone at ease." That is one of the early clues that Irving is a fine man, and the evidence accumulates. He says of the interview that he got his "first glimpse of the young, talented, mission-driven employees in government." This dedication and caliber of talent surprised him.
Then, certainly because his resume and interview impressed the staff, he met with then HUD Secretary Ben Carson. Carson was the retired pediatric neurosurgeon with an interest in social challenges who accepted President Trump's offer to become the cabinet level secretary. Dennis knew of his intelligence, based on his career, and was pleased to meet and talk with "a gentle soul, filled with a humble compassion for those in need." These initial assessments never changed, though Dennis at first refused the job that was offered. He didn't think he wanted such a large challenge.
He began teaching accounting and serving on boards. Every few weeks, Carson or his chief of staff would call and politely ask him to reconsider. Three months later, enough boredom had set in that he was ready.
Dennis and Carson were Republicans, both eager to serve Trump. I am not a Republican and did not vote for Trump. Yet it is crucial for my well-being, and I am not kidding, that I be willing to recognize that "wise and good" people, as Alexander Hamilton put it, are to be found on both sides of any important issue. Hamilton believed that such humility was a requirement for democracy.
What follows Dennis' acceptance is a stunning display of work ethic and leadership, beginning with feeling the responsibility of his position. "HUD is helping struggling families who need safe and affordable housing," he writes after the swearing-in ceremony. "I began to feel the momentousness of the situation."
No stranger to challenges, he writes of growing up blue collar and entering the white collar world of global accounting, of the need to escape his comfort zones while always maintaining respect for everyone. "Every job is important," his hard-working father taught him.
It was this attitude of respect that impressed me most. Making sense of the complex budget and structure of HUD was an enormous task, the first of many. He did his homework and then held meetings with key staff, one-on-one initially, in "listen-only mode." The problems were many. There had not been a clean audit for years, there were dysfunctional relationships with other key government agencies, and the technology used was way behind the times. All of this interfered with HUD's mission.
Dennis was often asked, "Why spend money on infrastructure when it could go to the many problems with housing?" His answer was always that a more efficient process gets more money where it needs to go, and people who need the help do not need a frustrating procedure. One of his many goals was to improve customer satisfaction with the call system. Anyone can relate to that.
In his three years as head of finance at HUD, Dennis accomplished so much, but he was most proud of the change in employee satisfaction. Ranked the lowest of all HUD departments when he arrived, employee satisfaction in the financial department was the highest of all the departments when he finished. And these are his thoughts about his co-workers: "I'm embarrassed to say that when I entered the world of Washington inside the Beltway, I never expected the quality and depth of talent in government that I found. There are many brilliant mission-driven people within HUD."
He continues. "Also, citizens have no idea how hard government people work to improve the lives of the American people. It was enlightening to observe this from the inside… We can all, and should, debate the efficiency and extent of governmental involvement in our daily lives. We can also debate policy decisions. But make no mistake, to maintain our republic we need some level of government to secure our liberty and safety."
And finally, "I've come to learn that public service is a noble cause everyone should experience. It's hard to comprehend just how much good the government does for the citizens to keep our country and its communities safe and protected."
These thoughts were the icing on the cake for me. Here is an American hero.
(Anne Bevilacqua is a retired veterinarian who lives in Haywood County.)