A&E Latest
David Joy's novel explores important issues
Wednesday, August 30, 2023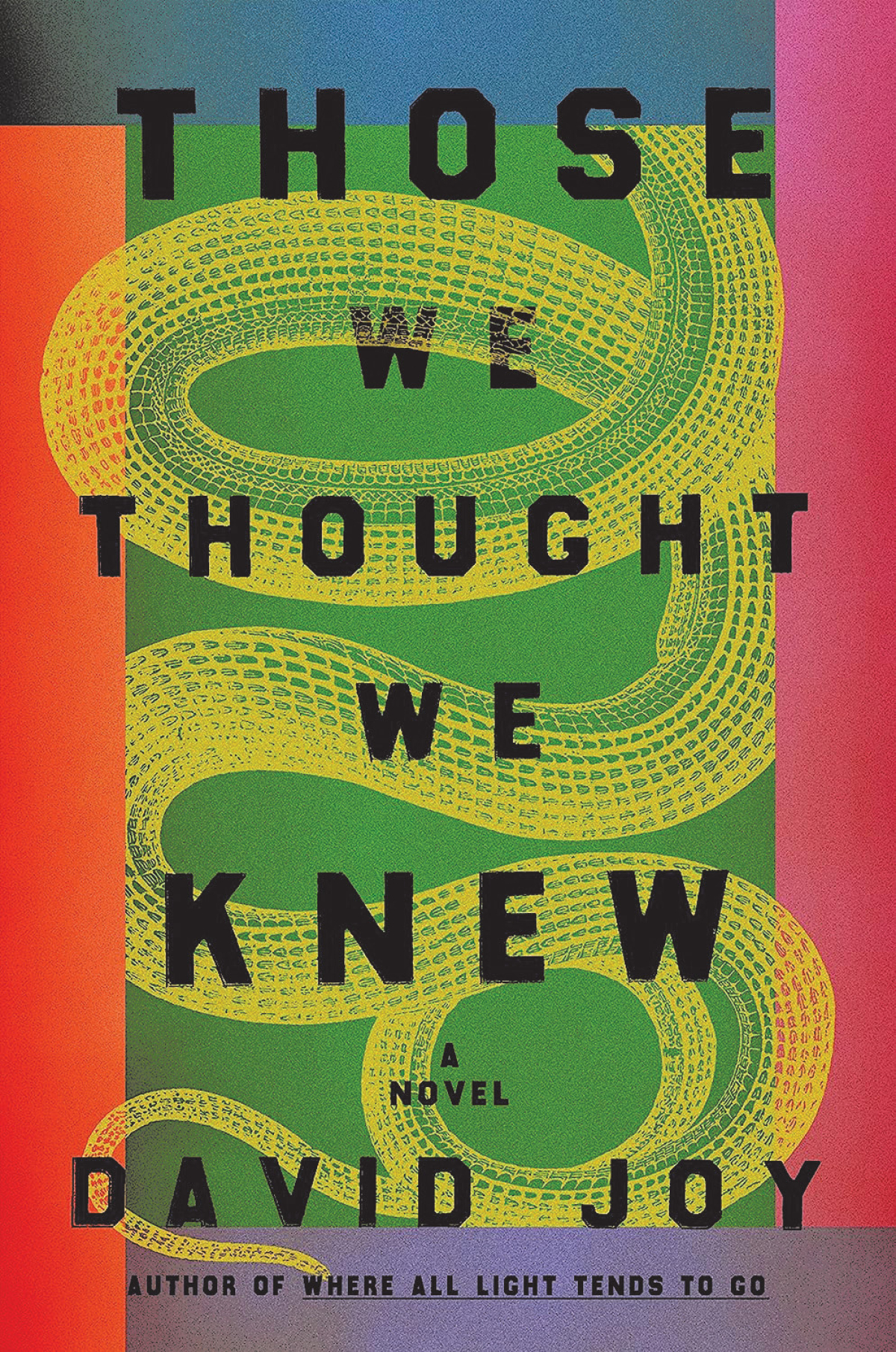 This one's going to be interesting. I've got a book whose author lives right down the road. David Joy and I both live in Tuckasegee, here in Jackson County, and his new novel "Those We Thought We Knew" (Putnam, 2023, 388 pages) takes place right here and with all the familiar places and faces — Pressley, Hooper, Allison, Dill, Luker, Darnell, Bates.
So, that when you're reading it, you might think you're reading a Thomas Wolfe novel. And like Wolfe, so vibrant are the colors of his descriptive prose that you want to believe you're reading documentary non-fiction about what took place here in 2019, which is when this novel is set. Just hope Joy doesn't get the same kind of local push-back as was the case with Wolfe. But, as the saying goes, "write what you know" and David Joy definitely knows Jackson County by now and Jackson County knows him, having written several novels that take place here.
So, from Tuckasegee, down N.C. 281 we go to N.C. 107 and into town. Stopping at Tuck Traders for a few necessities, Mt. Zion AME church in Cullowhee for an Amen, and the Coffee Shop in Sylva for lunch. But this is not a travel book, it's crime fiction that reads a little like Agatha Christie meets Cormac McCarthy. Joy has become a good storyteller, has learned from his own personal writing experience and from some of the best fiction writers and has perfected his writing style. His short chapters and his poetically descriptive narrative keep the reader engaged (In fact, I read this almost 400-page book in two sittings).
I loved the way he uses the first half of the novel to introduce us to the local characters and landscape so that you feel as though you know the expanded history of the people and the place. We get the Southern Appalachian dialect, the Plott hounds, the unmufflered old trucks sporting Confederate flags, the white lightnin'... I've been living in Jackson County for 40 years and so know Jackson County well, but I'm beginning to think that the young David Joy knows it better than I do. He's come a long way since his first book, "Growing Gills: A Fly-Fisherman's Journey." Now, he's a best-selling and award-winning author with a global reputation. Kudos to him and his focus and discipline that fuels writing that keeps getting better with each new book.
But I digress. "Those We Thought We Knew" is a crime novel that is about the three Rs: race, religion and real estate. The main storyline begins at a protest rally at the Confederate monument on the steps to the old courthouse building in downtown Sylva, with members of the KKK and the counterculture anti-protesters battling it out for supremacy. In this case white supremacy, which results in the eventual death of a young black woman named Toya Gardner, who is an artist who professes that "art is an instrument of social change" and who was participating in the rally. With the KKK having "traded in their robes for business suits" in this 2019 scenario, local self-made "pride matters less than power" real estate businessman Slade Ashe becomes a central character as the Jackson County Sheriff John Coggins and his deputies try and solve the murder case. As a kind of mountain man Hercule Poirot, Coggins already has the novel's "bad boy" — an out-of-towner KKK member named William Dean Cawthorn — locked up in the county jail on suspicion of murder. His detective, Leah Green, on her first case right out of college, is working the county trying to come up with pertinent clues to solidify the case against Cawthorn. Right when she thinks she's solved the case, new evidence emerges which sets Cawthorn free from jail. And, as they say, the plot thickens.
From here on out we get a 50/50 perspective from both the Black and the white communities with the character of Toya's grandmother, Vess Jones, the matriarch of the Jackson County Black community, and detective Green, who is investigating a plethora of possible suspects, all with potential yet illusive motives. "The only suspects so far were a nut job who'd turned over his house to a rat snake, a grumpy old cuss who'd been riding a grader too long, and a college kid who had no motive other than a summerlong crush," Joy writes. From here, Joy hones in on the Southern reality of "submission vs. survival" as described by grandma Vess, who says, "Each one of us has to live our own truth," and goes on to speak of the process of grief. "Grieving was an individual process, and the only constant was time. There was no right or wrong way and there was no assurance that you would ever heal."
And, here, we also have Leah's epiphany related to this case, from which the book's title is taken: "People like Cawthorn were the easy ones. But it was the ones we thought we knew, those were the ones who broke our hearts." And with this quote, we're set up for the book's surprise ending.
But the real surprise ending is what David Joy has done with this book, which seems a pivotal point in his writing life. He's made a leap of revitalization to a reverence for the sacredness in life and the need to recognize that level of personal awareness, as well as that regarding racial equality. "Those We Thought We Knew," in the end, is about an enlightened insight into the human condition and that's what, suspense aside, I think he's ultimately writing about in this book.
(Thomas Crowe is a regular contributor to The Smoky Mountain News and author of the multi-award-winning non-fiction nature memoir "Zoro's Field: My Life in the Appalachian Woods.")