Archived Reading Room
A perfect gift for local lore buffs
Wednesday, November 30, 2022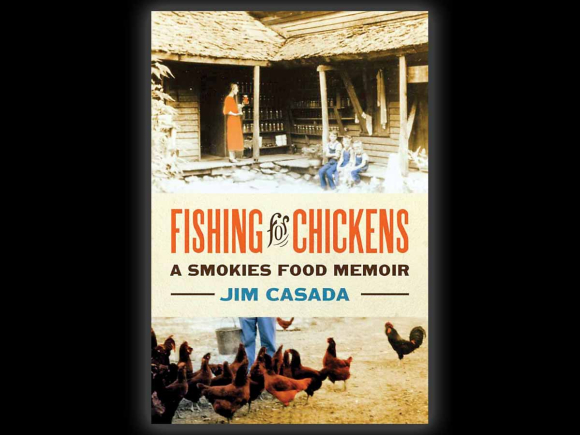 If you're looking for a gift for the holidays for that person in your life who enjoys reading about local history, folklore, and life in these mountains, or if someone you know loves whipping up different sorts of meals in the kitchen, then you need to hustle out and pick up a copy of Jim Casada's "Fishing For Chickens: A Smokies Food Memoir" (The University of Georgia Press, 2022, 336 pages).
Casada is the author of more than three dozen books, including "A Smoky Mountain Boyhood," reviewed last year in Smoky Mountain Living. There he recounted his coming-of-age days in and around Bryson City. Though focused primarily on mountain cuisine and culinary practices, "Fishing for Chickens" adds to more delightful stories to Casada's earlier memoir.
In his Introduction, Casada writes that his family in the 1940s and 1950s was no different than many of their neighbors. Though money was sometimes scarce, "We always had plenty of food on the table, never worried about where the next meal was coming from, and my siblings and I got some new clothing at the beginning of each school year."
Yet as we read "Fishing For Chickens," we realize how different life was then. As Casada tells us, again in the Introduction, "I now know that my family, and to an even greater extent many of the families of my contemporaries, lived an existence that in some ways was not all that different from pioneer times. This was particularly true when it came to self-sufficiency…we were rich in knowing how to grow, raise, catch, kill, trap, or find in nature essentials for life."
Casada spends a good deal of this book looking back at all those essentials. He devotes two chapters to the common and vital edibles of that time — corn and pork — and then divides the book into sections like "Winter Squash," "Bread," "Wild Game and Fish," "Berries," "Cherokee Foods," and "Pickling." In each of these chapters, he gives us information about the particular foodstuff, its history and place in the kitchens of the Smokies, and traditional recipes.
Under "Sweetenings," for instance, we learn about "molasses makings" from sorghum, bee gums, popcorn balls, and snow cream. Recipes include such delightful sounding dishes as Old-Timey Honey Cookies, Metheglin, a traditional mountain beverage that resembled mead but without alcohol, and Molasses Pie.
In "Part III: Preparing and Preserving," Casada describes at length the old-time practices of "putting up" food, such as in root cellars or springhouses, or by salting, pickling, and canning. As Casada points out, canning in particular must have seemed miraculous when it first became popular in the mountains in the early 20th century. Until then, the winter season restricted diet to cured pork, certain corn dishes, and dried legumes. With canning, however, life at the dinner table changed dramatically. "All I can say with certainty," writes Casada, "is that my mother, grandmother, and virtually everyone I knew embraced canning with something not too far removed from religious fervor."
In the final section of Fishing For Chickens, Casada describes the various practices and meals that staked out holidays like Thanksgiving and Christmas. In his account of the New Year's meals, for example, he recounts that the family often ate, as they did on so many occasions, cooked apples, plus the traditional black-eyed peas for good luck, greens, cornbread, and pork. As the family ate, Casada tells us, "Mama and Daddy might reminisce a bit about New Year's traditions from the past, but mainly they expressed hope that coming months would bring good cheer, good fortune, good health, and a bright outlook for our clan." He then ends by adding this sweet thought, "As a youngster I could always count on one great blessing — awareness that the year ahead would unfold in the embrace of my beloved Smokies."
In these holiday chapters, too, are special recipes. Thanksgiving, for example, brings treats like Chestnut Dressing — if you don't have chestnuts, substitute pecans — Giblet Gravy, and Smoky Mountain Stack Cake while Christmas meant Applesauce Cake, Orange Slice Cake, which sounds especially delicious, and Russian Tea, which in this recipe does not include the commonly used Tang mix that became so popular for this drink during the 1960s.
So that's "Fishing For Chickens," a wonderful compendium of food, facts, and fun, a fine spread of personal stories, history, and of course, the more than 200 family recipes.
By now, some readers are surely wondering about the title of Casada's memoir, so here's the story in shortened form. To save himself and the chickens being chased around the yard for a special dinner, Casada's grandpa would take a long cane pole with some black nylon line attached on one end, with the line tipped by a small fish hook and baited with bread. He would then select his bird, usually one of the "lethargic layers," wait for his target to be alone, dangle the baited hook, and then pull the hooked chicken to him, where he quickly snapped its neck. (If you're grimacing at this description, you've forgotten that back then pork and chicken didn't come wrapped in plastic from a grocery store.)
"Fishing For Chickens" is a marvelous look at Smoky Mountains life in the first half of the twentieth century with some mouth-watering dishes in the bargain.