Archived Arts & Entertainment
This must be the place: Lace up the running shoes, head out the door and get after it
Wednesday, November 30, 2022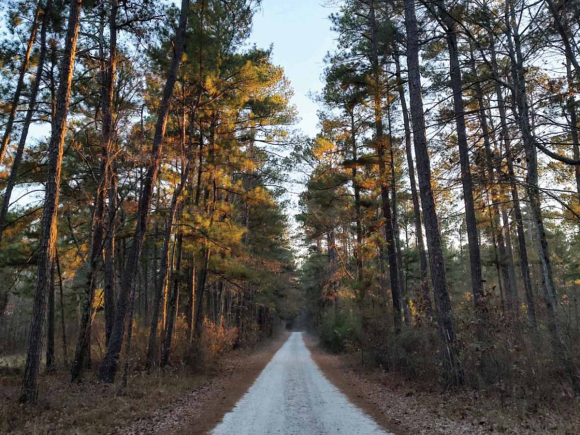 A running route in South Carolina. (Garret K. Woodward photo)
As of yesterday, Monday, Nov. 28, I've run 2,525 days in a row. I hadn't checked in on "the streak" in a while, but was curious at where it stood after coming across a 2021 article for Outside magazine, titled "The Minds and Habits of Master Streakers."
And here I sit in the newsroom at The Smoky Mountain News. It's almost noon on Tuesday. We're currently putting out this week's newspaper that you're currently holding or reading online. The USA/Iran World Cup game is in a couple hours, and I'm trying to figure out when I'll squeeze in a three-mile jog (day 2,526 in-a-row) around downtown Waynesville before I sneak into The Scotsman for a cold beer and large TV showcasing the match (with sound on, which is ideal).
The Outside piece conjured a collage of memories, moments and miles traversed within my mind. Since Dec. 31, 2015, I've run at least one mile a day, with, I'd say, an average of around three miles during each excursion. When Dec. 31 appears on the calendar next month, it'll be exactly seven years since I began this whirlwind odyssey of running, weather conditions, geographical locations, and emotional states of being — all with a healthy dose of pure stubbornness and dogged persistence.
Now, for some background, I've been an avid runner since I was 12 years old (37 now). Starting in seventh grade, I ran competitively, racking up blue ribbons and school records all through middle and high school. I kept competing way into college, running D-1 track and cross-country at Quinnipiac University. But, most importantly, many of my lifelong friends were met through these athletic channels.
So, for over a quarter-century, I've laced up my running shoes, headed out the front door, and gotten after it, whatever that "is" being a sense of self, a mindset and physical state of being only felt in the midst of a jog to somewhere, anywhere, or nowhere in particular. Running is the one common thread throughout my life that's remained as vital as ever, this tether reaching the deepest depths of my heart and soul — the ebb and flow of the universe can be felt and witnessed on one simple jog, try it sometime.
Even before I started running, the idea and act of it has always been in my life. A die-hard, perhaps hardheaded runner, my father, Frank, has finished 85 marathons and thousands of road races over the decades, going all the way back to his years as a track and cross-country athlete in 1950s Upstate New York.
Heck, Frank has run the Boston Marathon 14 times, his best finish being 02:48:15 in 1979. His first Boston trek was 1978, the last in 1999. Once-in-a-while, he'll saddle up at the start line of the local Turkey Trot or some random race while on vacation in Maine. At age 80, my father still gets up almost every day and goes for a run around the backwoods of the North Country.
In essence, my running streak happened by chance, rather than purposely pushing it as far as I could. I mean, nobody sets out to run every day for seven years, let alone for 19,546 days (53.51 years), which is the current active record held by Jon Sutherland, 72, of Utah, who, oddly enough, is also a writer/journalist, one who specialized in rock music. How 'bout them apples, eh?
Thus, on Dec. 31, 2015, I found myself at my old college buddy's apartment in Brooklyn, New York. New Year's Eve and I decided to go for a six-mile run around the hustle-and-bustle borough, ultimately trotting across the Brooklyn Bridge and taking the subway back to Greenpoint.
Before that day, I was running every other day. But, while in Greenpoint, I found that I couldn't really cross-train, so I just ran every day I was visiting New York City. After a week, I was on the phone with Frank and mentioned how I had run every day for a week. "Ah, that's nothing, I ran every day for a year. Try and top that," he muttered in a tone only a father could to his son.
From there, I challenged the old man. Aiming for one year of running every day, I kept at it. Spring, summer, fall, winter. No matter the weather, no matter the circumstance or wherever I may find myself. Who cares if I'm a little late to something? I was out running. I'll get there when I can. Who cares if it's below zero and snowing outside? Add on another layer and put on thicker gloves. Who cares if it's 11:30 p.m.? I got to get the run in to keep "the streak" alive.
At this stage in the game of life, running, for me is a form of meditation, the one part of my day where I'm completely disconnected from technology and interaction, where it's only me, the sounds of my breathing and footsteps, and the observation of the sounds and sights swirling around one's current position in that moment of Zen in motion — pure ecstasy with each step forward.
Reflecting back on the last 2,525 days, I can say wholeheartedly that the biggest takeaway are those moments of solitude, where I found myself in these happenstance junctures of my life, in search of a quick place to run while traveling to or from an assignment, while on vacation, or merely driving across America. Find a route on the AllTrails app and pull over before the sun goes down.
I think of that run across the Brooklyn Bridge, and the one across the Golden Gate. I think of that recent snowstorm in the Adirondacks, running in silence along the Bloomingdale Bog Trail, thick snowflakes cascading from above. I think of those runs in Canada, Mexico, the humidity of Florida, dry air of Montana, rainstorms of Virginia, and the sweet ocean scent of Texas, too.
And I think of that happenstance rendezvous with Wilson Lake in rural central Kansas, a bleeding sunset and warm breeze rolling across the Great Plains, a joyous smile rolling across my face as I gazed westward while in motion, smack dab in the middle of America, with nowhere to be and running in my own time — that void of nothing and everything that makes every single mile worthwhile.
Life is beautiful, grasp for it, y'all.