Archived Arts & Entertainment
This must be the place: Ode to the bluegrass awards, ode to a sea change
Wednesday, October 06, 2021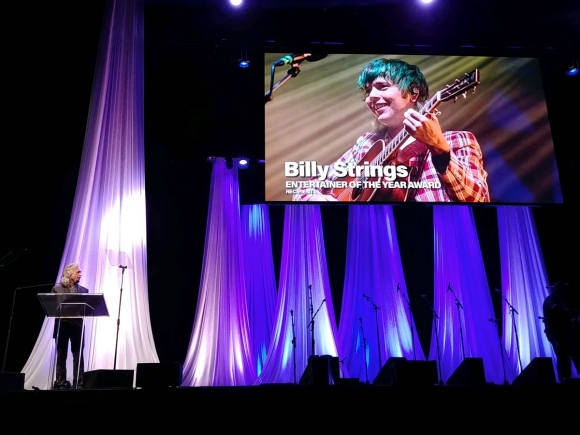 Billy Strings winning the IBMA 'Entertainer of the Year." (photo: Garret K. Woodward)
Finishing my beer and burger, I emerged from the depths of Jimmy V's bar in the lobby of the Sheraton hotel in downtown Raleigh last Thursday evening. In a sport coat, dress shirt and bolo tie, I headed for the Duke Energy Center for the Performing Arts.
That evening was the 32nd annual International Bluegrass Music Association award show.
Normally, the red carpet would be lined the entire way with marquee stars and record label executives. But, in this current era of the pandemic, the red carpet was a ghost town, with barely anyone stepping up to the bar during the cocktail hour in the lobby of the center.
Grabbing a bourbon on the rocks, I turned around and noticed my ole buddy C.J. Lewandowski on the patio. Lead singer/mandolinist for the Po' Ramblin' Boys, the East Tennessee group was up for "Entertainer of the Year" later that night.
We shook hands and caught up, ultimately realizing we hadn't seen each other in almost two years, which is wild, considering we'd cross paths often backstage at music festivals and running around in the same social circles.
So, I ask him, what it is about bluegrass that simply pulls so deep within you?
"It's real. There's very little between you and an audience member when you're up there onstage — it's you, your voice, your instrument, and a microphone that just carries that sound," Lewandowski said. "And there's nothing else — it's just raw and real. And that's what we want. We're talking about things on that stage that we can't talk about in person. So, it's good to connect, and that's what people need right now."
Entering the auditorium for the award show, it was an eerie scene. Usually it'd be a sold-out affair, where everyone is in tuxedos and black dresses or rhinestone (i.e. Doyle Lawson). But, the venue was less than half full, with most of the prime real estate in terms of front row seating empty. Thus, I found myself in the half-full front row reserved for "Entertainer of the Year" nominees.
Throughout the showcase and live broadcast, there were several key moments. Alison Krauss being inducted into the Bluegrass Hall of Fame. As too were The Stoneman Family, who also performed (with 83-year-old banjoist Roni and 87-year-old mandolinist Donna onstage). And a fiery cover of "Eastbound and Down" by the Po' Ramblin' Boys all decked out in suits formerly owned by late country star Mel Tillis.
Haywood County's own Balsam Range was awarded its third "Song of the Year" honor for "Richest Man." It was another feather in the cap for the legendary bluegrass quintet, who have also taken home "Entertainer of the Year" and "Album of the Year" twice in both categories over the years.
"I think the 'Song of the Year' award is incredibly important. We've worked really hard over the last 15 years to select songs that impact people and represent us well," said Balsam Range lead singer/fiddler Buddy Melton. "A good friend of ours, [the late] Tony Rice told me one time, 'great music and great songs are timeless.' To me, this award means we can hopefully live on through our music."
But, perhaps the most poignant — more so eye-opening — moment of the award show came at the end of the night with the "Entertainer of the Year" going to 29-year-old guitar sensation Billy Strings.
Now, to those in the know, it's no surprise at all to see Billy & Co. pick up this recognition. As of late, they are the biggest string band on the planet. They're the future of the "high, lonesome sound," and of its survival. Billy has brought legions of new fans and the curious alike into the bluegrass world, whether they realized it or not.
And it's wild to think of when Billy Strings rolled through Haywood County just four years ago to play the Cold Mountain Music Festival in Lake Logan. I was well-aware of him by that point. I knew this dude had "it," and alerted my friends to catch his early afternoon slot (which was sparsely attended).
He blew the doors off CMMF, then simply wandered into the crowd to make friends. Now? He's packing out arenas across the country and selling out world-class stages like Red Rocks — all while converting a whole new generation of music freaks into lifelong bluegrass lovers.
Many bluegrass purists and elitists tend to forget that, well, the "Father of Bluegrass" himself, the late Bill Monroe, was, in all seriousness, a rebel. When he first combined New Orleans Dixieland jazz with blues and gospel into this whole new thing he called "bluegrass," he was a rebel, and way beyond his time.
And Monroe never ceases to be influenced by any and all sounds coming from any and all directions — country, rock, jazz, pop, etc. He was a sponge. Always listening. Always absorbing. Always picking something new up to put into his own toolbox for later use, which is something of a kindred spirit when you place Strings right next to Monroe.
Strings winning "Entertainer of the Year" represents a sea change, a seismic shift in the bluegrass world. The next chapter of the "high, lonesome sound" is right here and now. As they say, "you're either on the bus or you're off the bus." And the Strings bus right now is blasting down that endless cosmic highway of melody and intent.
Life is beautiful, grasp for it, y'all.