Archived Arts & Entertainment
The attitude of gratitude: Michael Reilly of Pure Prairie League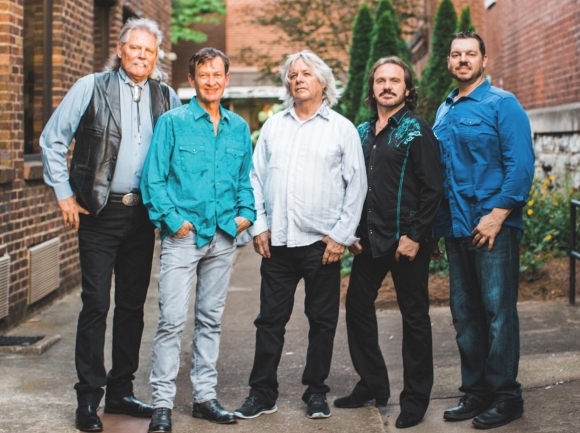 Pure Prairie League (Michael Reilly, far left).
In the annals of country-rock history, a handful of acts were able to ride the line of mainstream radio success, all while breaking new ground in fusing the respective genres. Like a buckin' rodeo bull, these bands straddled the sounds of honky-tonk twang and razor-sharp electric six-strings.
What started with the innovative, experimental sounds of The Byrds, Bob Dylan, Flying Burrito Brothers, Nitty Gritty Dirt Band, Buffalo Springfield, and Gram Parsons in the 1960s, soon parlayed itself into the 1970s swagger of juggernaut groups like Eagles, Linda Ronstadt, Poco, Emmylou Harris, and Pure Prairie League.
Recently celebrating 50 years together, Pure Prairie League remains a pillar of the country-rock realm, this seamless blend that radiates vibrant threads of tones running clear across the melodic spectrum.
For a band that formed in southern Ohio, PPL has always brandished its geographical influences that ultimately shaped the identity of the ensemble — from Appalachian bluegrass/folk to Midwestern country/rock to Chicago blues/jazz.
Having crisscrossed the globe for a half-century as the bassist for PPL, Michael Reilly's journey began in his native northern Kentucky. A lifelong musical sponge, he saw The Beatles on Ed Sullivan in 1964 and started a garage band as a middle schooler, playing sock hops and pool parties.
As a teenager, he snuck into a Kentucky bar and watched the legendary Lonnie Mack onstage, forever changing his life: "I knew that's what I wanted to do," Reilly said. Soon, he was playing in The Lemon Pipers (famous for the #1 hit, "Green Tambourine").
From there, he took off to attend the Woodstock festival in 1969, ultimately relocating to New York and joining The Robert Lee Band, which left for England, opening shows for David Bowie.
Reilly was then called up by PPL to be a session musician for an upcoming album (the smash record "Bustin' Out"). He joined the band in 1972, right before the album was released, forever changing all involved, especially on the heels of "Amie" — an immortal song just as poignant and luminous as PPL itself these many decades later.
Smoky Mountain News: With the shutdown, what it proved to me is what I've always felt, which is that music is more than just entertainment — it's a healing force.
Michael Reilly: Absolutely. It's a way to bring people together, and it's a way for them to get into a place in their head where they have fond memories. So, that's always a plus for us.
SMN: PPL has played pretty much every stage and event out there. After all these years, what is it that you're still chasing up there?
MR: You know, we look at the people and we see them singing along to the songs. They know all the words, some of them with their eyes kind of rolled back in their head or squeeze onto their [significant other].
And it's because they're sort of transported back to their college days or whatever — that's what we're chasing after, for people to get that kind of experience that we can deliver to them.
Good music is not bound by time and space — it's always in fashion.
SMN: How did you first cross paths with PPL?
MR: I was playing with The Lemon Pipers in Cincinnati at a place called the Ludlow Garage. We were on the same bill as Pure Prairie League. I listened to them play and I was blown away.
These guys are really good and this is [a band] that I'd like to be in. Poco had just come out with its first album and I was wearing that out — [that sound was] definitely something that interested me.
And I became friends with [PPL]. A couple of years later, when I got back from England with the piano player [from The Robert Lee Band], they called us up and said, "Hey, we're doing our second album at Toronto. Can you guys come up?" And the rest is history. Like [Grateful Dead guitarist Jerry] Garcia said, "What a long strange trip it's been." [Laughs].
SMN: That album being "Bustin' Out," which is such a wide palette of genres.
MR: We were rock-n-rollers playing with country instruments and singing with a country slang. We grew up [in the Midwest with country and rock music]. We didn't try to do anything or try to sound country or try to sound this way or that way, we just wanted to write our own songs. We started writing our own tunes, and that became the driving force.
SMN: What has 50 years of touring and performing taught you about what it means to be a human being?
MR: There was an old manager of ours named Jack Daley. He was an amazing man and one of my mentors. He had a phrase called, "the rich tapestry of life."
His mother was a burlesque singer and vaudeville dancer when he was growing up. He [went on to] manage Judy Garland and Rita Hayworth, and he wrote "Amos 'n' Andy" radio shows. He managed Hopalong Cassidy, The Everly Brothers, people like that.
[Jack] was such a fountain of knowledge and experience for me. And he always used that phrase, "the rich tapestry of life." The more I look back on my life, the more I think, "wow, what a crazy quilt this is."
Jack was right, all the way along the line.
SMN: Well, I would guess that you probably are a big subscriber to the idea of "the now" and practicing gratitude.
MR: Oh, absolutely. Life is worthless if you just bitch about things. And I'm blown away and completely, totally blessed — nothing but gratitude.
Want to go?
Acclaimed country/rock act Pure Prairie League will perform at the AsheJam festival June 25-27 at the Western North Carolina Agricultural Center in Fletcher.
Other stage acts will include Perpetual Groove, Orleans, The Grass Is Dead, Jeff Sipe Trio, Travers Brothership, Pink Beds, Taylor Martin, Snake Oil Medicine Show, Hard Rocket, Emisunshine & The Rain, and many more.
For more information and/or to purchase tickets, go to www.ashejam.com.