A&E Latest
QuickDraw art sale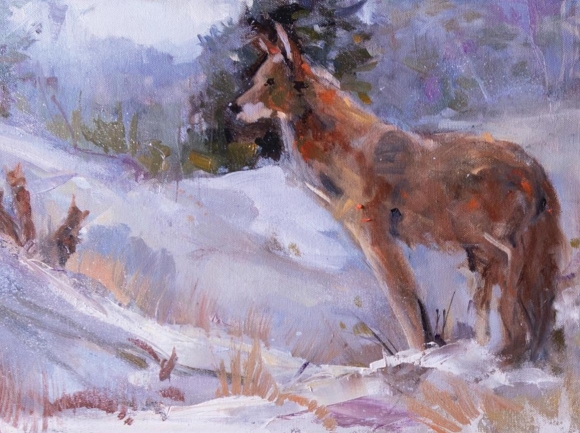 "Red Wolf" by Sarah Sneeden.
QuickDraw, a local art initiative that funds art supplies in rural Western North Carolina schools, is selling art for education online now through June 30. The fundraiser presents art to buy or bid on, and a giveaway basket opportunity for donors.
QuickDraw's mission is to keep focus on art education's importance in the face of shrinking school budgets. Proceeds fund art education in Haywood County through teacher classroom supply grants and student scholarships.
Artists step up for education and present their work in an online art market and art auction that runs now through June 30. Artists donate 50 percent or more of the sale to QuickDraw to support art education through funding for teacher supply grants and student scholarships.
QuickDraw's sale is live for shoppers and donors through June 30. The online art market and art auction can be accessed at: wnc-quick-draw.myshopify.com.
Fifty regional artists are represented in the sale and the auction. One-of-a-kind art includes fine art paintings, jewelry, fine craft decor and fashion pieces by local artisans, premium bamboo fly rods for fishing enthusiasts and rod collectors.
The auction features collectible work by prominent artists including Luke Allsbrook, Jenny Buckner, Nina Howard, Allen Davis, Joyce Schlapkohl, Grace Cathey, Erin Tapley, Margaret Roberts and the late Nick DePaolo.
Local businesses contributed to stock a thank-you basket for donations. Donors can contribute online, or in person at Bosu's Wine Store at 138 Miller Street in Waynesville.
For more information, visit www.quickdrawofwnc.com or call 828.734.5747.