Archived News
Complaint filed against Cawthorn by fired staffer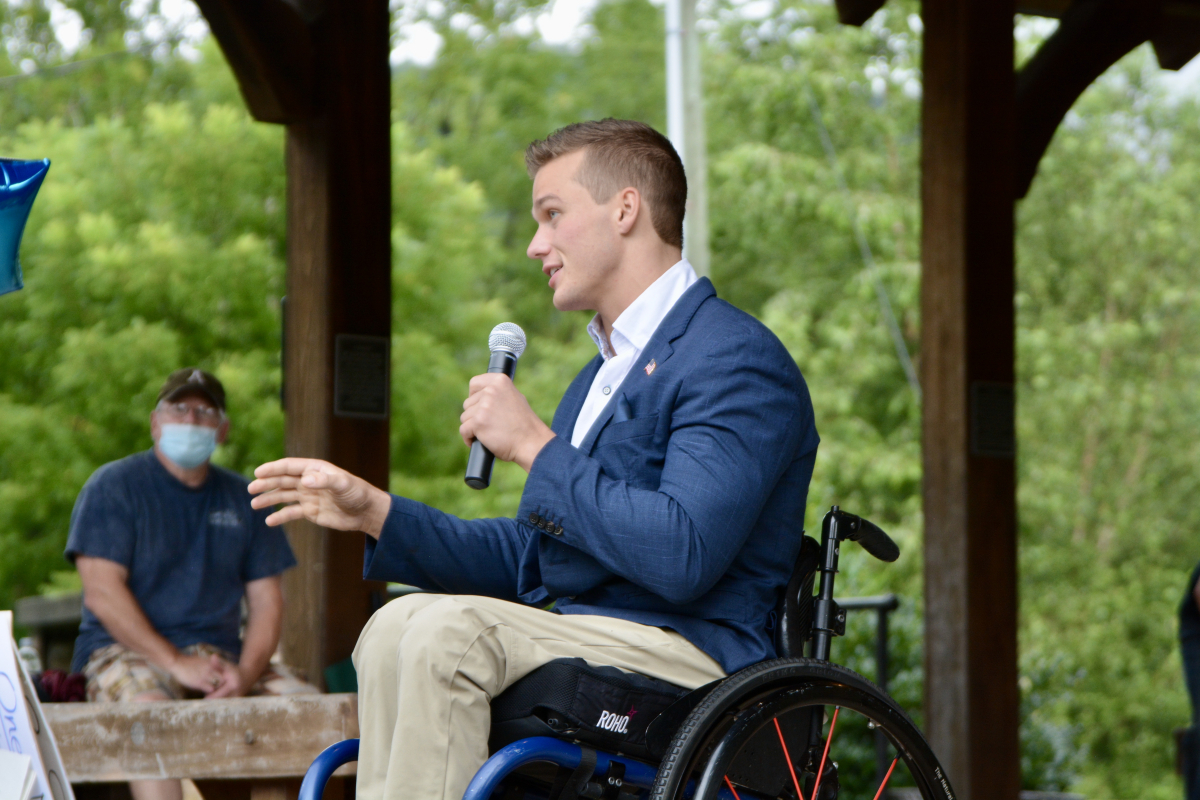 Rep. Madison Cawthorn speaks to a gathering in Sylva in 2020.
Cory Vaillancourt photo
Saying in a leaked recording that "we all want the ultimate goal of him never serving again," Lisa Wiggins, a former caseworker and campaign aide to Rep. Madison Cawthorn (R-Henderson) has filed an employment-related campaign against the embattled congressman.
"What he's done to me was illegal, morally wrong, you name it, it's been done," Wiggins said in a phone call to David Wheeler, co-founder of nonpartisan advocacy PAC American Muckrakers, more commonly known as Fire Madison Cawthorn.
"I had a conversation with Lisa a couple weeks ago to back up the notes I was taking, and I didn't realize she would provide me with so much information, so I saved a copy," Wheeler said.
North Carolina is a one-party state, meaning permission to record telephone conversations doesn't require the consent of all parties engaged in the communication.
Wiggins said in the call that she'd advance claims involving violations of the Family and Medical Leave Act, which entitles eligible employees to "unpaid, job-protected leave for specified family and medical reasons," according to the U.S. Department of Labor .
In the call, Wiggins said she was denied leave when her uncle passed away and her husband had a heart attack during the same week.
Wiggins, 46, said she believed she was Cawthorn's oldest caseworker and that she'd been given a warning but was fired three days after the warning. It's not clear what the warning was for.
She also said that Cawthorn had closed all of his district offices except for the Hendersonville office, and was using call forwarding to consolidate constituent service calls.
"I know that because I drove and closed them all," she said. "He didn't have enough caseworkers to man them. He didn't care, he doesn't care about his constituents. He does not care."
"If you come from Cherokee County, you're driving five hours to see your congressman," Wiggins said. "But you can't see your congressman anyway when you go to the office. There's no way you can get a meeting with him unless he's trying to pull some votes and that's about the only way."
Wiggins went on to make a number of other claims against her former employer, including that there were more liquor bottles in the Hendersonville office than water bottles, and that she hadn't seen the congressman she worked for since October.
She explained that she didn't believe all of the sexual assault or harassment allegations against Cawthorn were true, but that she does believe some of them, including ones from his brief stint at Patrick Henry College, are true. No charges or suits have been filed against Cawthorn in regards to any of those claims .
"As far as the candidate himself, I mean, he's just a bad person. He's a habitual liar, and he's going to say and do anything he can to your face but behind your back he's completely opposite," Wiggins said. "There's some good stories I have – a lot of good stories."
Cawthorn is currently facing seven other Republican challengers in the state's May 17 Primary Election. Wiggins, a supporter of retired Army Col. Rod Honeycutt , said she hoped Cawthorn would not reach the 30% (plus one vote) threshold to avoid a runoff and proceed directly to the General Election in November.
"The main goal here is that he does not get that 30 plus 1 percent," she said. "I don't feel like he's gonna get it. I just don't feel like he's gonna run away with it on May 17."
The Fire Madison Cawthorn PAC endorsed another Cawthorn challenger, Republican Wendy Nevarez , and has encouraged Democrats to re-register as unaffiliated in advance of the April 22 deadline to vote against Cawthorn in the Republican Primary Election.
"The ultimate goal, of course, is to get him out," Wiggins said. "I'm working harder here than I did for his campaign two years ago, and I mean, I worked really hard two years ago."
Any work-related complaint from Wiggins would be handled by the Office of Congressional Workplace Rights , according to OCWR Executive Assistant Glenda DuPree.
When reached by phone on April 18, DuPree also said that if such a complaint were filed, it would be confidential, and that the OCWR could not even confirm or deny the existence of such a complaint.
"People need to know how this man really is," Wiggins said. "He's still got a lot of people fooled."
When reached by phone, Wiggins said she had no comment on the matter, but Wheeler said that in a conversation with Wiggins yesterday, Wiggins indicated that the complaint had indeed been filed.
When first reached for comment, Cawthorn spokesman Luke Ball said he was not aware of any complaint being filed. A few hours later, Ball released the following statement:
"These accusations are verifiably false. The individual spreading these disgusting allegations is currently working for a primary opponent of Congressman Cawthorn. We believe these comments potentially amount to defamation of character, and are exploring options to ensure the Congressman's name emerges from these slanderous remarks unscathed."
This is a developing story. To listen to the leaked phone call in its entirety, click here.
Leave a comment
40

comments
As other commenters have noted, Cawthorn is dishonest, uncaring, a con man, a cheat, a liar, a little lying grifter, a leech on the balls of this great state, an absolute trumptard douchebag, and a person totally unfit to do the job. All of which can be largely attributed to the fact that he's (by his own admission). . .

. . . BRAIN-INJURED!

See Dr. Yattz below. . .

Monday, 04/18/2022

Cawthorn is exactly as he has always portrayed himself, he's a con man, a cheat, and a liar. Nothing has changed since he first ran for Congress, and apparently this is fine for the majority of the voters in District 11, since they elected him to represent them in D.C. This is the real tragedy, my friends. That a majority of my neighbors would vote for the absolute worst candidate that could be found, based solely on the letter "R" behind his name on the ballot.

Monday, 04/18/2022

Why would any Democrat switch to unaffiliated to help defeat Cawthorn in the primary? If I could live with myself, I'd switch and vote for the little lying grifter. If he wins the primary, Democrats have a shot at that seat.

Monday, 04/18/2022

Cawthorn was never in it to serve his district. He's a grifter just like his hero, DJT. Right from the outset, he said it was "all about the comms." Meaning, spending his time on Twitter and visiting other Jan. 6 plotters. He's defrauded the taxpayers of over $400K during his stint. On top if that it's embarrassing to be "represented" by a person totally unfit to do the job.

Monday, 04/18/2022

Cawthorn was never in it to serve his district. He's a grifter just like his hero, DJT. Right from the outset, he said it was "all about the comms." Meaning, spending his time on Twitter and visiting other Jan. 6 plotters. He's defrauded the taxpayers of over $400K during his stint. On top if that it's embarrassing to be "represented" by a person totally unfit to do the job.

Monday, 04/18/2022

Cawthorne really seems dishonest, uncaring. Like so many republicans

Monday, 04/18/2022

Would be a shame if Maddie had a chance meet up with Tommy Udo.

Monday, 04/18/2022

Lil' Maddie needs to go. He's a leech on the balls of this great state, and this great nation.

Monday, 04/18/2022

What an absolute trumptard douchebag Cawthorn is. Spring Break Veteran would've been cannon fodder had he actually served.

Monday, 04/18/2022